Diamond Band Saws which are used special high-strength stainless steel strips as matrix. It has excellent toughness, straightness, anti deformation and anti cracking resistance.Using the same welding and electroplating processing technology with Japanese, so its stability is good. there will be no some phenomenon such as cracking, off-tracking and jitter. The cutting surface is smooth. It has high cost performance, which is the first choice for customers instead of the other band saws.
Endless stainless steel belt is harden, and its edge is straighten. then is electroplated diamond. It can cut super hard material and brittle material such as monocrystalline silicon,polycrystalline silicon in solar energy, semiconductor and sapphire, ruby in LED field. It also can cut ceramic,graphite, glass and marble.
SPECIFICATION AND DRAWINGS(0X means the thickness of steel belt.If need,Please ask Crostrar for the size of A,B,C,D,R,L,W and T . )

CRS0XC


CRS0XUC-S

CRS0XUC-B

CRS0XUC-P


CRS0XUC-R

TECHNICAL PARAMETERS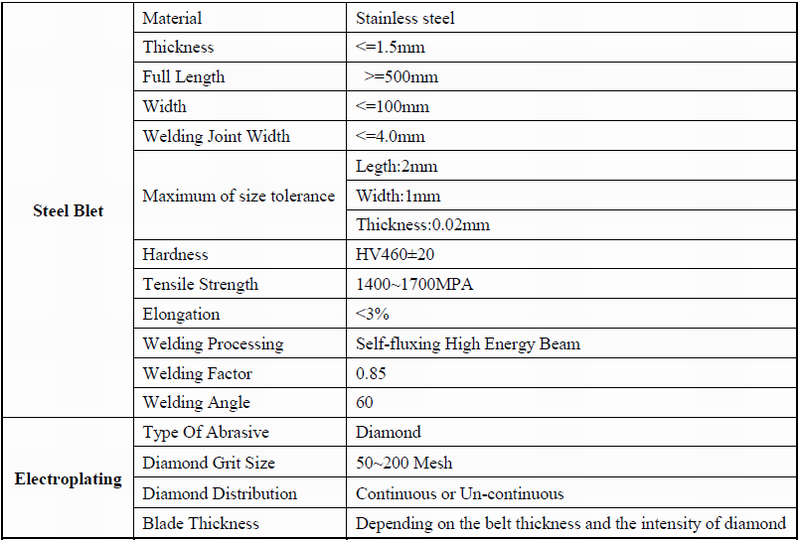 INFORMATION BEFORE ORDERING
(1) Dimensions of band saw including legth, width and thickness of matrix.
(2) The intensity of diamond or thickness of diamond coating.
(3) Diamond coating shape.
(4) Which material is cut.
COMMON SPECIFICATIONS AND SIZE
L4320mm*W60mm*T0.5mm/0.6mm/0.7mm
L5400mm*W60mm*T0.5mm/0.6mm/0.7mm
L4570mm*W32mm*T0.7mm/0.8mm
L3700mm*W80mm*T0.6mm/0.7mm
L5670mm*W60mm*T0.6mm/0.7mm
L2800mm*W60mm*T0.6mm/0.7mm
L3656mm*W40mm*T0.6mm/0.7mm
L3230mm*W38/40mm*T0.4/0.5/0.6mm/0.7mm
L6096mm*W40mm*T0.4/0.5/0.6mm/0.7mm
Any other size band saw can be manufactured according to customer's need.
CASE